APEX and LemoChain AMA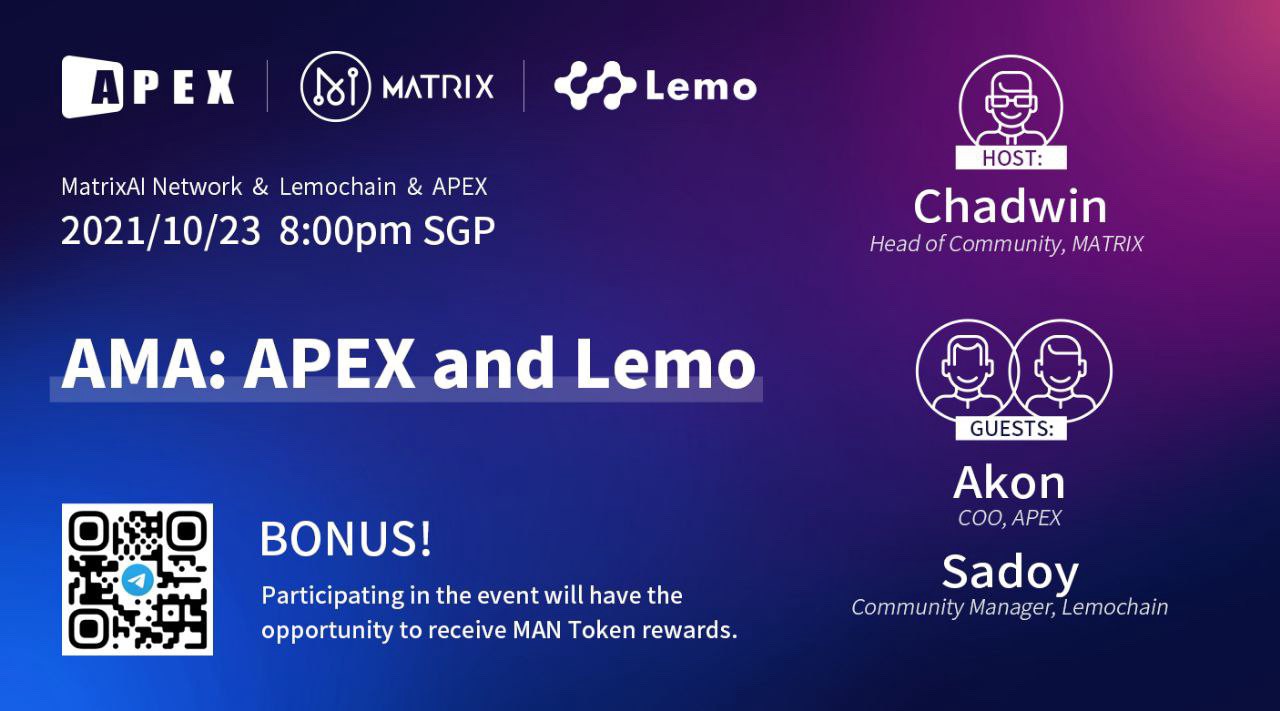 We recently held an AMA in our Telegram community with members from APEX and LemoChain. Below is a recap.
Chadwin: Hello Matrix Community, today is a again a special day as we welcome back Sadoy and Akon for our second APEX and LemoChain AMA to conclude our APEX focused week.
For those who are new to the community or who missed out on the previous AMA a reminder of who our guests are.
Akon is the Chief Operating Officer of APEX and is in charge of the project's strategy as well as the external business collaborations.
Akon: Hey matrix community! Glad to meet you again.
Chadwin: Sadoy is the Community Manager of LemoChain and will provide some insight into the ventures and undertakings of the project.
Sadoy: Hi, I am Sadoy K. Das, community Manager of lemochain. It is my pleasure to be back here again. Thanks for making this happen.
Chadwin: Welcome. Akon and Sadoy.
Before we continue, if you have not yet read our latest articles revealing the tech and potential of APEX be sure to check the pinned messages in this group where you will always find all our latest articles.
We previously collected questions from the community for our first AMA and have still plenty of unanswered questions.
Today's AMA will be divided into 2 sections.
Section 1: Questions regarding APEX and LemoChain to be answered by Akon and Sadoy respectively.
Section 2: A few preselected questions from the community regarding APEX.
Could I kindly ask that if your answer is long to spilt your posts to allow the community time to read and stay on track with the AMA.
Question 1 is for Sadoy.
To referesh the memory of our community and for the benefit of the new members could you enlighten us as to what exactly LemoChain is?
Sadoy: Lemochain is committed to build a brand-new blockchain data transmission ecosystem.
It is the next gen blockchain, which will be more fast, Highly secured with D-Povp consensus (Updated version of D-POS) and more eco friendly.
Chadwin: Next generation technology indeed!
The next question if for Akon.
APEX sounds like a massive undertaking. Could you introduce your core team that will help make this a reality?
Akon: APEX has six core members: two senior smart contract engineers, an expert in finance and quantitative trading, an expert in contract security, an experienced front-end engineer and a business development manager. We are a tech-focused team aiming to hold a place in DeFi by virtue of our technology and unique logical design.
Chadwin: Wow. Some expertise and an impressive team for sure!
The following few questions will be related to LemoChain for Sadoy to please answer.
Seeing that India is the initial target market for APEX and that you are based in India and, together with LemoChain have better knowledge of the current affairs there, could you kindly describe the current crypto environment in your country (India)?
Sadoy: I am an Indian. I can tell you that Crypto markets are prospering in India. Besides Exchanges lots of OTC platform launched in this past 2–3 years.
Supreme Court as well as central bank of India has given green signal to trade in cryptocurrencies with appropriate KYC.
It is booming right now.
Chadwin: Exciting stuff. India has a massive population and to know the government are not against the adoption of cryptocurrency is great news!
Next question.
As noted in our recent article series Algorithmic Stablecoins are a key feature of APEX.
Sadoy, Please share your thoughts on the adoption of an Algorithmic Stable Coin in India?
Sadoy: Definitely. I see algorithmic stable coins as game changing in India. Stable coins solved an important part of the crypto transaction problem.
Its going to boom as the next Bull run approaches.
Chadwin: Indeed. I think ASC is going to benefit Matrix in many ways as well!
Akon, your turn.
Our community is eager to know what progress has been made on APEX since the previous AMA held in September?
Akon: Glad to answer. We have updated its contract and adjusted its economic model. Under the new model, the ASCs APEX provides will have a more solid value foundation and greater usability.
Chadwin: Awesome and very exciting!
Delays are sometimes unavoidable. Why has there been a delay and how do you plan to improve transparency in the future?
Akon: Since the first ASC to be launched on APEX will be pegged to INR, and there is currently no stablecoin pegged to INR on the blockchain, in order to read the price of INR our Oracle Machine needs to access data from both onchain and offchain for calibration.
We were originally too optimistic about the speed of this, but we have already found a good solution that is now being deployed. After launch, we will make all codes open-source. Future updates will also be reflected in the codes.
Chadwin: Great. It is clear that with this massive undertaking there will be many hurdles. We are glad that you have already overcome the first one!
LemoChain is an interesting project.
For Sadoy, what do you see as your best marketing achievement so far in India?
Sadoy: We are approaching different Indian crypto influencers, communities , companies. for more collaboration and partnerships.
Chadwin: Impressive. LemoChain also has a partnership with APEX.
How do plan to promote the adoption of APEX in India?
I am sure there are plenty of ideas, perhaps you could provide us with just three?
Sadoy: Collaboration and partnerships will give huge exposure. Like I mentioned earlier that. making partnerships and collaboration with Indian crypto companies will be the key, generating awareness of our project into Indian community.
Asian counties always adopt life changing technological advancements , I think they will take to stable coins in case they find problems in future to invest into crypto with fiat.
Chadwin: Understood. The economy of Asia is massive. If they choose to adopt ASC as a means to trade that would be a great step for cryptocurrencies in general!
The next question pertains to APEX for Akon to please answer.
Who do you see as your biggest competitors and what sets APEX apart?
Akon: Current mainstream ASCs include Basis, Amplforth, Frax, etc. What sets APEX apart from these is that APEX doesn't release a single type of algorithmic stablecoin pegged to USD. Instead, we have a range of algorithmic stablecoin suited for different regions and markets. This will be a more applicable solution.
Meanwhile, we'll also provide an algorithmic stablecoin trading platform based on Matrix AI. This will be comparable to a real-world foreign currency exchange market. Besides algorithmic stablecoins released on APEX, in the future, we'll also introduce other mature ASCs such as Frax.
We believe that thanks to Matrix's AI technologies and high-performance blockchain, APEX's ASCs will see huge demands and a large user base. This will be the perfect solution for the ASC market.
Chadwin: Wow. Some impressive points you have made. I will give the community some time to read your answer. I must agree. Currency/Region-specific ASC will be massive in the future.
Moving on.
We are almost done with Section 1 of the AMA. Some interesting information has already been shared and the potential is clear.
LemoChain has been busy with various activities. Sadoy, do you have any recent activities you would like to share with the community?
Sadoy: Yes. Lemo expanded its ecosystem to Gamefi. Awesome Games like PokeMine is in its final phase of release. PokeMine is worlds first Action card pokemon themed. mobile game where players can independently evolve elves and change their appearance.
Curretly 273 Million. Lemo ERC20 tokens have been burnt. and same amount of BEP20 LEG tokens have been created and is available on Babylon Contract. It is also available on Token Eco exchange. Simultaneously you can map Lemo to LEG(fill in- lemo mapping application whitelist).
Currently LEG is the DAO token for our Gamefi. but in future both LEG and Lemo will be used in the games.
So stake LEG/Lemo into Babylon nodes. Approximate APY of 2% daily. Babylon program will reposition our mainnet.
LEG is Lemo on BSC.
Besides Gamefi, Lemo team is on collaboration making spree…more will be revealed later.
This is a big answer.
Chadwin: A big answer indeed. Take your time community.
I think we have yet to see the full potential of GameFi and it exciting to know LemoChain are getting involved early on.
Ok. Last two questions for this section and for Sadoy to please answer.
Firstly. Will Apex also run on LemoChain?Secondly. How does LemoChain plan to offer stablecoins to its users?
Sadoy: Apex is the AI powered Exchange. Lemo will provide Stable coins in association with Apex. Definitely, Apex will be cross chain and will use lemochain too.
Chadwin: Thank you. That concludes the first section of our AMA.
For the sake of time we will move swiftly onto Section 2, preselected questions from the community.
All questions relate to APEX so Akon please be ready.
Rubyshankstyna asks: 'How do you plan to spread awareness about your project in different countries/regions where English is not spoken well like in Asia which has a large population and has the potential to be your users?'
Akon: We will work together with the local communities of countries and regions that have a demand for ASCs. We believe this will perfectly solve our localization and promotion problems, as all parties will be doing what they are best at.
Chadwin: Community is key to any project! The next question comes from Virgina Stein.
The progress of community driven projects are reliant on community input. As a. developer I am interested in contributing to your project, do you have such programs?
Akon: We are glad that you are interested in making a contribution. In the future we plan to further open up to the community so that everyone can contribute.
Chadwin: Power to the people. I think projects sometimes fail to realise how valuable and eager the community is to help the project.
As Matrix we are glad to have a community that is also always willing and eager to help our project!
The last question for Section 2. These questions were supplied by Jannet Branch.
So many projects just like to speak about the 'long term vision and mission' but what are your short terms objectives?
What are you focusing on right now?
Akon: Our short-term objective is for our INR-based ASC to be accepted and widely used in the Indian market. This will be the focus of our work for the moment.
Chadwin: Thank you. I think I speak on behalf of the entire Matrix community. We cannot wait to see this go live!
Before we conclude the AMA. I would like to again thank Sadoy and Akon for providing our community with some insight into your. interesting projects.
We look forward to tracking your progress.
I would also like to invite Sadoy and Akon to leave our community with some final thoughts.
Sadoy then Akon please.
Sadoy: Lemo + Apex. = Endless possibilities. Lemo and Man is prepared for the next bull run which is knocking at the door. Stay excited.
Akon: Let's move forward together! Make matrix eco more fantastic.
Chadwin: Thank you for your time and informative answers. It is clear that with the arrival of an AI based ASC all our projects will be better off.
Good luck with your future developments!
Matrix community. That concludes our AMA and I trust you have enjoyed it. Stay tuned for more exciting developments around the corner!
Eric Choy: Thanks Chadwin, Akon and Sadly. Look forward to website open and more ecosystem projects under Matrix.