Award-winning Matrix Quiz Event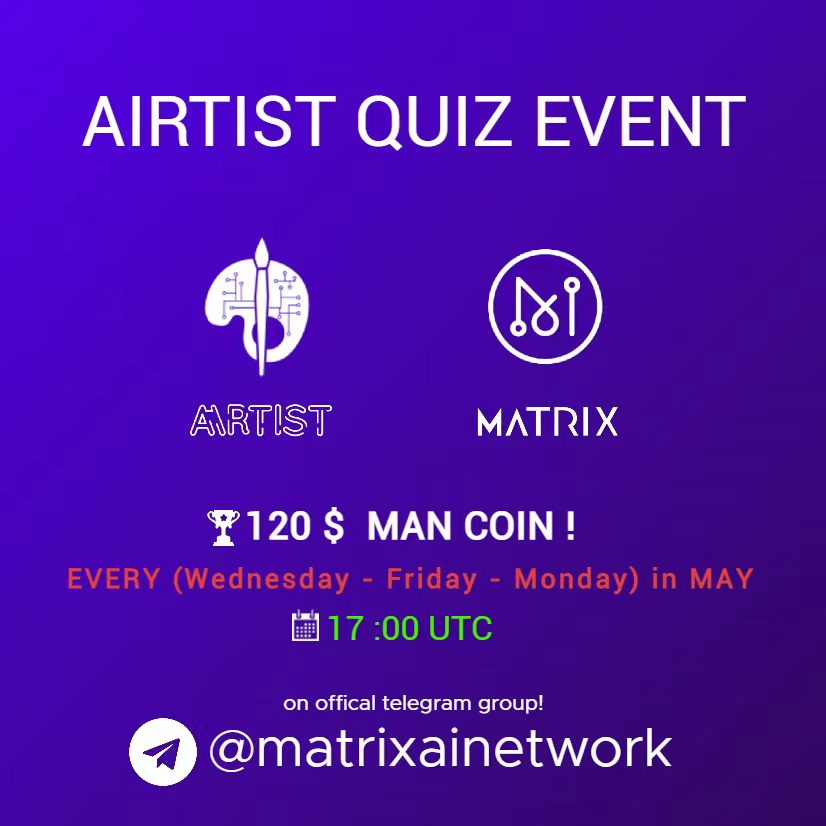 Dear Matrixians,
"Award Quiz Event" to introduce our Ecosystem project AIRTIST and to make people aware of it's awesome utility in terms of art creation, NFT generation and trading and how Matrix is associated with it.
A. Event Details
Our event starts on Wednesday, May 4, 2022 at 17:00 (UTC).
Event period : May 4 - May 30, 2022 (12 Prize Questions)
Every Wednesday, Friday and Monday at 17:00 (UTC) throughout May.
Prize: $10 MAN/day - Total=$120 MAN will be distributed.
Date of Winner Announcement : 3 June
Date of Prize Distribution : about 5 June, 2022
Those who give the first correct answer to the question of the day in our 12 planned events will win a $10 MAN.
At any time from 5pm(UTC) chat in the Matrix AI Network Global channel will be muted for the question, once it is finished chat will be unmuted to receive answers. First correct answer will be rewarded. So stay alert!
B.Tasks
Join the Matrix Global Telegram Channel at t.me/matrixainetwork
Retweet the announcement tweet.
C.Rules
We will ask one question per event.
A person can win up to 3 prizes.
The first to write the correct answer and the fastest will win the prize.
MATRIX reserves all rights in this events.
Terms and Condition is subject to change without prior notice.
Good luck everybody !!
Twitter: https://twitter.com/MatrixAINetwork/status/1521532773391028224?s=20&t=CJS1MLEcMmP745yCn2DLcQ
Medium: https://matrixainetwork.medium.com/award-winning-matrix-quiz-event-d802c3f1a337