Community AMA Series
CryptoChallengers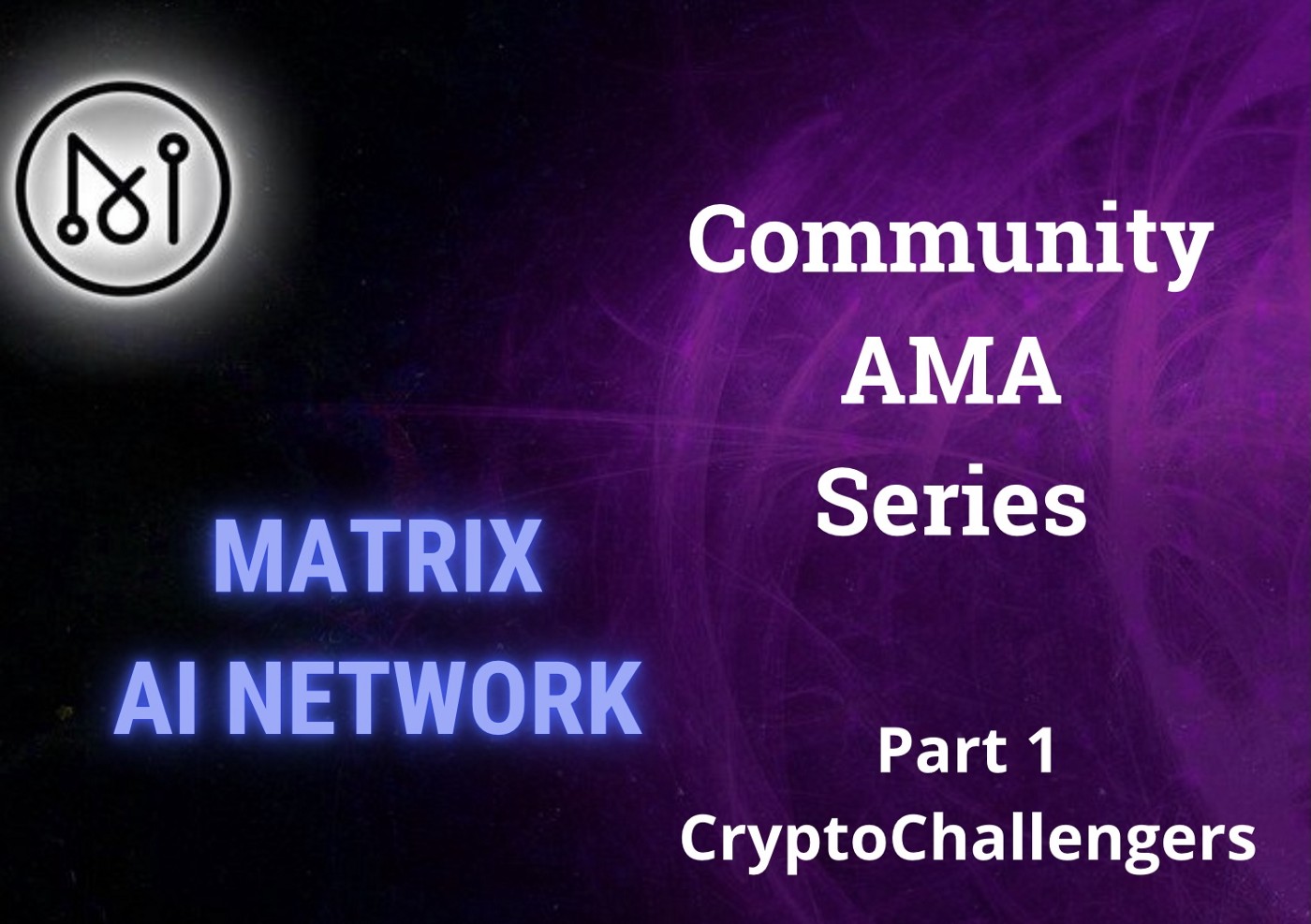 James: Hi, everyone Ken will be attending this AMA on behalf of Matrix. He is the director of marketing department at Matrix.
Ken: Hi community!
Julian: Welcome Ken. :) Thanks for bringing us MATRIX.
𝗦𝗼, 𝘄𝗶𝘁𝗵𝗼𝘂𝘁 𝗺𝗮𝗸𝗶𝗻𝗴 𝗮 𝗱𝗲𝗹𝗮𝘆…𝗟𝗲𝘁'𝘀 𝘀𝘁𝗮𝗿𝘁 𝗼𝘂𝗿 𝗔𝗠𝗔 𝘄𝗶𝘁𝗵 𝗯𝗮𝘀𝗶𝗰 𝗜𝗻𝘁𝗿𝗼𝗱𝘂𝗰𝘁𝗶𝗼𝗻 𝗦𝗲𝗴𝗺𝗲𝗻𝘁 :)
Q1: It's an honor to have you here. Please introduce yourself and tell us about Matrix AI Network.
Ken: Hello everyone I'm the Marketing Director of Matrix. Today I'm glad to have the chance to talk about Matrix, blockchain gaming, NFT, Metaverse, AI, etc.
Matrix AI Network was founded in 2017. It's an open-source high performance public chain built by top-notch Chinese scientists. We hope that with the help of AI, blockchain can solve traditional problems of slow speed, security risks, high entry barriers, and resource waste.
We aim to build an easy-to-use, fast, secure, and environmentally friendly blockchain platform and Matrix 1.0 is the product of that ideal. On top of this foundation, we are launching Matrix 2.0, a project that would not be possible without a highly efficient blockchain, to build a decentralized AI ecosystem.
Matrix 2.0 has a few core components. The first part is the basis of Matrix 2.0. This part was completed in Matrix 1.0. We used Matrix's PoW nodes to build a decentralized cloud computing platform. As we know, computing power is the basis for AI. Neither training new algorithm models nor providing services for users can be done without computing power.
The second component is the digital asset chain. Through blockchain and distributed storage, we authenticate the personal data that users upload, and separate the ownership and usage rights of these data so that users' data can truly become their own assets. In the future, companies will need to pay to use the personal data of people, and such data can only be used for analysis but not copied.
Federated training is the core technology to separate the usage and ownership rights of data. Now that we have a high-performance decentralized computing network and a quality big data platform, we will naturally attract a large number of algorithm scientists to create AI services. On top of this, we have launched an AI service platform: MANAS.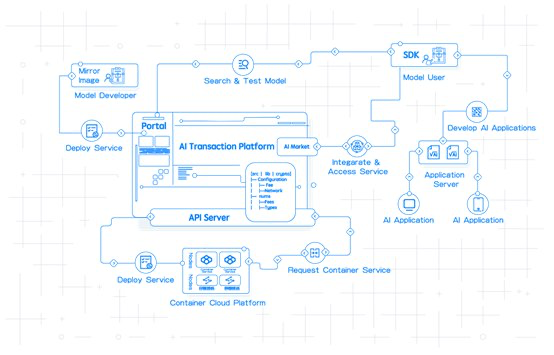 MANAS is a decentralized AI service platform. With its help, the works of every algorithm scientist can find their way to businesses and customers, and to use these services, clients need Matrix's computing power. Even better, we have made the entire platform open and accessible through API and SDK. This is to say that anyone can build an AI service platform based on MANAS to serve his/her clients and profit from doing so. The prerequisite for Matrix 2.0 outlined above is an effective tool for intellectual property authentication, and NFT is no doubt a good choice. Therefore, starting from this year Matrix is branching off into NFT.
Compared to its Chinese counterparts, Matrix is a multinational project. So far, we have an international community of more than 150 thousand members. 1500 overseas nodes are participating in our mainnet PoW.
Matrix is not satisfied with our current scale. One of such opportunities is the integration of AI and blockchain gaming. This could be our new focus.
Julian: Q2: How does Matrix use AI to improve the efficiency of the blockchain (or in other words TPS)?
Ken: The efficiency of blockchain is not just affected by our real-world internet speed but more importantly by the consensus mechanism of the blockchain network. Drawing upon the wisdom of our predecessors, we have designed a brand-new consensus mechanism: Hybrid PoW.
This is a DPoS+PoW consensus mechanism. PoW can guarantee the security of the entire network. More importantly, we have adopted a random clustering AI election algorithm, which not only solves the security issues of the current DPoS network but also uses AI voting to safeguard against deliberate sabotaging.
Matrix Mainnet has a real-world TPS of 12499. This is a remarkable achievement among other unsharded public chains of the world. We are also very proud of this.
Julian: Q3: Bitcoin mining is criticized for its resource waste. What is special about Matrix's mining mechanism?
Ken: Very good question! Our original intention for designing our mining algorithm and consensus mechanism is to solve the problem of resource waste plaguing traditional blockchains. The waste of Bitcoin is two-fold: On one hand, if Bitcoin were a country, it would be the ninth-largest electrical power consumption in the world, using more power than about 200 countries and regions. On the other hand, Bitcoin mining consumes 70% of the world's total computing power, which is one million times that of Google. If this amount of computing power were used instead for scientific purposes, it will move society forward by a lot.
We have firstly created a hybrid consensus algorithm, introducing AI on top of the hash. This way for every PoW, part of the resources will be used for socially beneficial computing. In addition, we have abandoned universal PoW. Nodes in Matrix AI Network don't participate in every mining cycle. For instance, if we have ten thousand nodes, only 32 of them will be selected for each mining cycle, and the remaining 9968 nodes will be idle, and their computing power will be leased out. This way, people who need the computing power will get it at a more affordable price. For these idle nodes, this is an additional source of income to PoW mining.
Moreover, regarding carbon neutrality, we are also experimenting with several related projects. In Xinjiang, we are collecting the heat from computing centers in an insulating liquid. With the help of an AI control hub, this energy can be sent to where it's needed for central heating.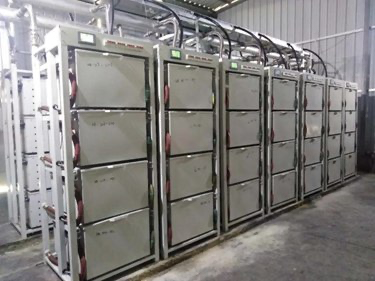 The picture above shows our pilot project in Xinjiang last winter.
This new technology was used in Dadamutu village school, Ghulja, Xinjiang in the winter of 2020. Throughout winter, the temperature inside classrooms and dorms were above 24 degrees costing only one-third that of conventional furnace heating. This success was acknowledged by the local authority, and we will keep on improving and promoting this technology.
Julian: Q4: You have mentioned NFT. This is a trending concept. What strategic plans does Matrix have in NFT?
Ken: For AI, we have launched a brand new platform: MANART. It has two parts, one of which is AI art. We use AI and machine learning to get AI artists who can create NFTs independently. This is the perfect solution for real-world artists' distrust for blockchain so that everyone can be introduced into the creative world of NFT.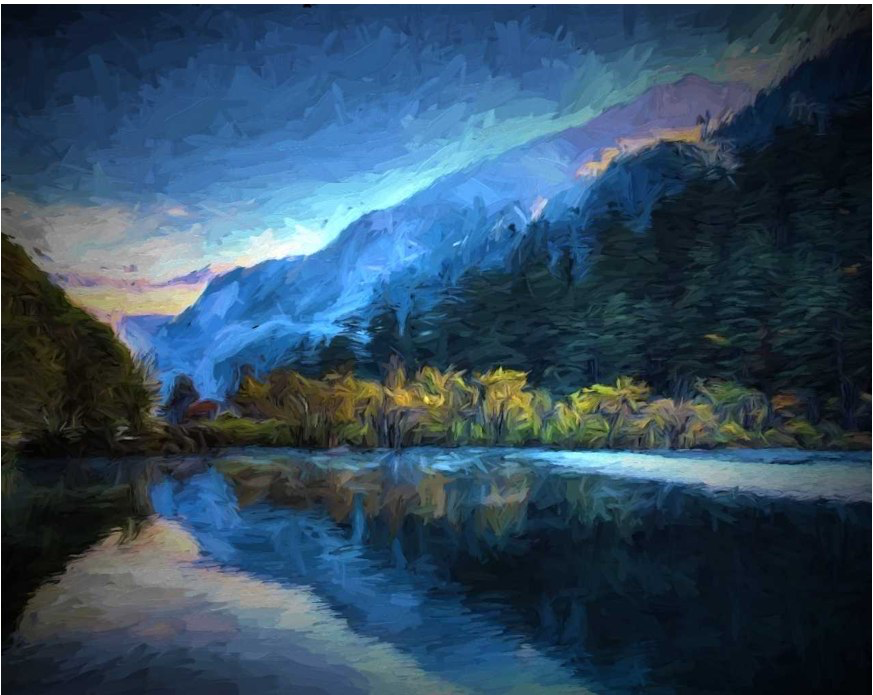 Take this painting for example. It was created by using our AI. We believe that the introduction of AI will drastically lower the barrier for creating NFTs and involve everyone. At the same time, AI will diversify the art styles of NFT. In western countries, AI art is already becoming a popular form of art and giving life to the digital art market.
The second part will be for AI scientists to mint NFT using the AI algorithm models which they have uploaded to distributed storage. This feature can solve the problem of intellectual property protection in the AI world. This will also be the first time digital assets with practical value are introduced to the NFT world.
Despite the novelty of AI-based arts, provenance and authenticity remain key challenges facing the creative industry. Even today, provenance and authenticity of digital arts have largely been handled by centralized entities (middlemen) such as individual experts or institutions like online marketplaces and auction houses.
At MANART, we believe that Blockchain is a vital solution to address provenance, authenticity, and ownership problems in the digital art space. Blockchain has already made its presence felt across various industries, and the creative industry is no exception.
With distributed ledger technology (DLT), the digital arts sector can now tackle many issues related to transparency, ownership, intellectual property (IP) rights, and forgery. MANART is a Blockchain-powered AI-based art platform. The platform will enable users to create their own digital artists and artworks with AI tools by leveraging GAN and deep neural networks.
Once users have created their own digital artists and artworks, they can then mint them on the Blockchain. The platform leverages non-fungible tokens (NFTs), which can represent both the robotic artist in the format of software codes as well as the digital artworks created by these software artists. Because each NFT represents the software artist or individual digital artwork with the creator's signature on the ledger, any user within the MANART ecosystem can easily track the asset to determine its authenticity and ownership information.
MANART will be developed atop two Blockchains: MATRIX and Ethereum. As an AI-focused Blockchain, MATRIX can significantly boost transaction speeds during training of deep neural networks with decentralized processing and offer compatibility with the interplanetary file system (IPFS) protocol as an essential storage component for NFTs.
On the other hand, most NFTs use either ERC-721 or ERC-1155 token formats, which are Ethereum standards. Ethereum Blockchain is the most popular blockchain that allows digital asset creators and owners to create and monetize their NFTs in a transparent, secure, and immutable manner with its smart contract capabilities. As such, MANART will use the Ethereum network mainly for monetization purposes for minting and trading of NFTs.
To create an open and incentivized ecosystem, MANART will leverage its own MAIN coin as a native token. MAIN is an ERC-20-based utility token that provides governance mechanisms and incentivizes positive behaviors among participants on the MANART network.
Our mission is to democratize the digital art landscape, allowing both experienced and novice participants in digital art to create and monetize their investments.
Julian: Q5: One of Matrix's missions is to lower the barrier for blockchain. How do you plan to make this happen?
Ken: The commercialization of blockchain began with Ethereum. One key innovation of Ethereum is smart contracts. Almost every public chain project since Ethereum supports smart contracts. Compared to real-world contracts, smart contracts are not smart enough. To take advantage of smart contracts, one has to know how to program. While anyone who can read or write can use traditional contracts.
According to rough statistics, there are only 20 million people who can program in the world, and the number of people who can use Solidity is even fewer. This is to say, smart contracts in their current form cannot benefit the masses and may even be a limiting factor for the blockchain industry. We are trying to introduce AI to make creating smart contracts as easy as writing traditional contracts.
At the same time, we are lowering the entry barrier to AI. Our AutoML platform MANTA is being developed. This month it will begin stage one testing. MANTA is a system of AutoML applications based on decentralized technologies. Simply put, it will help you train the AI algorithm model you need.
The arrival of Matrix will make it much easier to train AI algorithms and deep neural networks. This will attract more algorithm scientists to Matrix, and more creative developers will mean more diversity to Matrix's AI services. Moreover, a large quantity of AI services competing with each other will have a positive effect on their quality, and users will benefit from more options. All this will lay a solid foundation for MANAS, which will be launched soon. At the same time, the wide adoption of MANTA will create demands for computing power in the Matrix ecosystem.
For Matrix miners, this will mean lucrative returns, and more and more users will be interested in becoming computing power providers. The scale of Matrix AI Network as a decentralized computing power distributor will further expand, which will lower our marginal cost and benefit users in the form of more affordable services and computing power. This will be a virtuous cycle.
Julian: Thanks for the well detailed introduction to MATRIX!
Time for our Twitter segment.
Q1: What are the tech innovations that matrix have brought to crypto space. Why it took so long to have developments on your marketing side?
Ken: Thanks for your question. You can refer to the previous questions about Matrix's contribution to the crypto space. We have been focusing on tech development after ICO and don't do that much shilling.
Throughout the bear market from 2018–2020, we never gave up, and we'll always put tech innovation at the core of our work.
Julian: Q2: what is the use of coin? how is it linked to artificial intelligence? what are the benefits for those who use MAN?
Ken: As the native token of Matrix AI Network, MAN is related to AI in every way. The consensus mechanism for mining MAN depends on AI algorithms. Matrix is also building an ecosystem of platforms for computing power, data, and AI services, where the currency for all transactions is MAN.
The synergy of this ecosystem will bring liquidity to the digital assets in it, and this will boost the value of MAN.
Julian: Q3: What makes you feel confident about the survival & sustainable success of Your project in the near future?
Ken: In the near future, the integration of AI and NFT should give us an advantage over competitors. I think we just answered a relevant question in the first part. You're welcome to check that out. Simply put, AI scientists will be able to mint their algorithms into NFTs and trade with other people. This will be the first time NFTs with practical value is created as opposed to traditional artwork NFTs.
Julian: That concludes our AMA. Thank you Ken for educating our community about this fantastic project.
Ken: Welcome to AI world, we'll boost the meta world!