Community AMA Series
Crypto Clash
Son Heroic: Chadwin Hello Mate! Welcome to Crypto Clash.
Chadwin: Hello community. It's a pleasure to be here. Trust you are all excited to learn a bit more about Matrix AI Network! 😀
Son Heroic: Community is excited to hear from you, so let's our todays session, shall we?
Chadwin: Please do. 👍
Son Heroic: So at the beginning would you like to introduce yourself?
Chadwin: I am Chadwin. Head of Community for MATRIX. I have been involved in this role for a few months now.
Like most people I have a job outside of crypto. But I have been fortunate enough to be involved in MATRIX and have enjoyed it so far!
I believe the potential of AI and blockchain to be enormous and look forward to seeing what the future holds.
Son Heroic: Thanks for the introduction, Glad to know about you.
𝗡𝗼𝘄 𝗹𝗲𝘁'𝘀 𝗺𝗼𝘃𝗲 𝘁𝗼 𝗼𝘂𝗿 𝗻𝗲𝘅𝘁 𝘀𝗲𝗴𝗺𝗲𝗻𝘁
𝗦𝗲𝗴𝗺𝗲𝗻𝘁 𝟮 : 𝗣𝗿𝗼𝗷𝗲𝗰𝘁 𝗜𝗻𝘁𝗿𝗼𝗱𝘂𝗰𝘁𝗶𝗼𝗻
First Question: Could you describe us about your project "Matrix Ai Network". What is your project about and how can we see it in action?
Chadwin: Great question.
Matrix AI Network was founded in 2017. It's an open-source high-performance public chain built by top-notch Chinese scientists.
We hope that with the help of AI, blockchain can solve traditional problems of slow speed, security risks, high entry barriers, and resource waste.
We aim to build an easy-to-use, fast, secure, and environmentally friendly blockchain platform and Matrix 1.0 is the product of that ideal.
On top of this foundation, we are launching Matrix 2.0, a project that would not be possible without a highly efficient blockchain, to build a decentralized AI ecosystem.
That is our current focus and our roadmap will culminate in a fully fledged decentralised AI ecosystem.
Son Heroic: That sounds great!
What's the motivation for starting this project?
Chadwin: I think the first answer covers this somewhat. I can add that one of goals is to lower the entry barriers for non-AI qualified people to be able to use, and benefit from, the amazing potential of Artificial Intelligence.
AI should be developed for all of society to benefit from and should be accessible to all forms of people. Technically skilled or not.
I believe MATRIX has the potential to achieve this.
Son Heroic: Thanks for sharing.
Next One. What are the Main Features that distinguish Matrix Ai Network from its competitors?
Chadwin: Good and topical question. We recently released an article series covering this. I will post the link at the end of my answer.
To answer briefly I will highlight some differences from other well known AI projects.
Matrix vs DeepBrain Chain
Consensus Mechanism vs Consensus Algorithm
DeepBrain uses a DPoS consensus mechanism, while Matrix has a DPoS+PoW consensus mechanism. Matrix also employs AI-based random clustering algorithms in its DPoS.
Of the two, Matrix's consensus mechanism is more secure, and with AI algorithms in its PoW, Matrix has more thoroughly integrated AI into its consensus mechanism.
Decentralization and our complete Ecosystem are other areas that makes us different to them.
Matrix vs Singularity NET
Openness
Singularity intends to use its own platform to host all transactions and has built its own commercialization team.
In contrast, Matrix will primarily focus on developing new technologies and platform features, and for the commercialization, Matrix will provide API and SDK for anyone with customer resources or experience operating a business to build his/her own AI cloud computing/AI service platform using our tools.
This is an ecosystem where all parties can play to their strengths.
Other differences include A Single Algorithm Service Market vs A Complete Ecosystem of Market, Data and Computing Power and our NFT platform.
Matrix vs Fetch.ai
Storage
Fetch.ai uses the Sharding technology of DAG for data storage. This is a different type of decentralized storage from Matrix's more traditional IPFS storage, and only time can tell which one is better.
Trading & Usage are other areas in which our goals are different to theirs.
Here is the link to the article.
Son Heroic: That was a great explanation by you.
What is the role of token in your ecosystem? Could you tell us a bit about the tokenomics of your project?
Chadwin: Sure.
MAN coin is the Universal Pass on MATRIX AI Network.
On MATRIX AI Network, MAN tokens are used for rewarding, payment and digital asset authentication.
Rewarding
Block-generating miners, transaction validators, and participants in the MATRIX ecosystem have the privilege to earn MAN tokens as a reward.
Payment
From leasing spare computing power to purchasing AI services, on MATRIX AI Network everything is paid in MAN.
Digital Asset Authentication
The process of converting computing power, algorithmic models, or AI artworks into digital assets involves burning a required number of MAN in the forging of NFTs.
With regards to the tokenomics, a graphic representation is always easier to understand.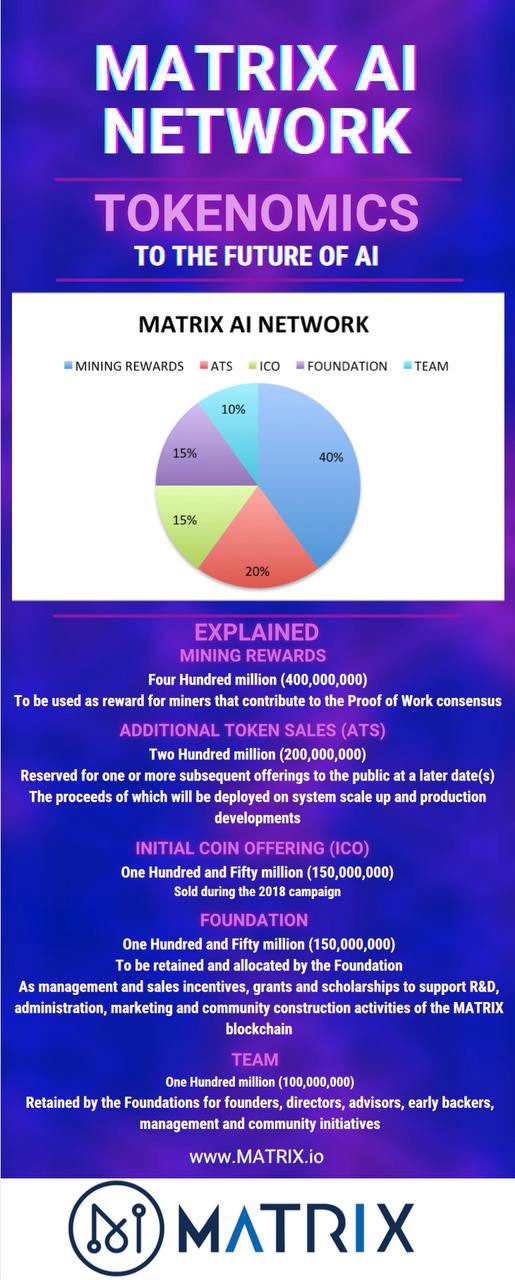 Son Heroic: You have some really well detailed answer to these questions. 👏👏
Dropping last question for this segment.
Can you please provide some progress on your Roadmap and what results Matrix Ai Network has achieved so far? And any sneak peek into 2022 plans for Matrix Ai Network ?
Chadwin: A common question amongst new members to our social groups!
As previously stated MATRIX has already developed a highly functioning blockchain. The next phase is developing Matrix 2.0.
As is evident in our roadmap the fun is only about to get started. We have completed the 'Upgrade' phase and now it is time to 'Deliver' and 'Expand'
2022 is going to be our best year yet!
Son Heroic: Very happy to know your progress, I hope here can make more succesfull development in the future. ✨
Thanks For That Well Detailed Introduction About 'Matrix Ai Network'
𝗦𝗼, 𝗟𝗲𝘁'𝘀 𝗠𝗼𝘃𝗲 𝗧𝗼 𝗢𝘂𝗿 𝗡𝗲𝘅𝘁 𝗦𝗲𝗴𝗺𝗲𝗻𝘁
𝗦𝗲𝗴𝗺𝗲𝗻𝘁 𝟯 : 𝗧𝘄𝗶𝘁𝘁𝗲𝗿 𝗤𝘂𝗲𝘀𝘁𝗶𝗼𝗻𝘀
First Question From Twitter
Q1) Can your explain features of Your Project Manta, Manas, Manart and Manito? What they mean and their use cases? @AccessEr09
Chadwin: Definitely! The answers won't be too detailed as we have plenty in-depth articles explaining each platform. But let me briefly explain each one.
MANTA (Matrix AI Network Training Assistant) is an auto-machine learning platform built on MATRIX Mainnet.
It enables anyone with no technical knowledge in AI to perform machine learning on a MATRIX node and get the AI models they need.
MANAS (Matrix AI Network Service Station) is a decentralized AI service platform.
With its help, the works of every algorithm scientist can find their way to businesses and customers, and to use these services, clients need Matrix's computing power.
Even better, we have made the entire platform open and accessible through API and SDK.
This is to say that anyone can build an AI service platform based on MANAS to serve his/her clients and profit from doing so.
MANART (Matrix NFT Marketplace) is a platform dedicated to AI-related NFT asset generation and authentication.
It has two key elements: 1. the "Big Threes" of AI (Computing Power, Data, and Algorithmic Models), and 2. AI art.
MANITO (Matrix AI Network Industry Tech Open-Platform) is an industrial network service platform built on MATRIX leveraging the high-performance blockchain.
By incorporating AI, Big Data, IoT and blockchain technologies, it will be a powerful tool for implementing Industry 4.0.
We also have MANIA and perhaps some other platforms in the pipeline too! 😉
Son Heroic: That's Great!
Next Question.
Q2) What problems of current blockchain technology can be addressed by Matrix? Can you briefly describe them? @Gentle_Man1008
Chadwin: The introduction of Ethereum opened the path for supporting complex business behaviors with cryptocurrencies.
The overall momentum of development, however, is now facing a series of key challenges.
These include:
(1) slow transaction speed;
(2) programming barrier of smart contracts;
(3) lack of security in smart contracts; and
(4) inflexibilities in managing and updating blockchains.
Designed to be the new generation blockchain, MATRIX leverages the latest artificial intelligence technology to resolve the above mentioned challenges.
The fusion of blockchain and AI technologies enables MATRIX to build a revolutionary cryptocurrency, which support. significantly boosted transaction speed, superior accessibility to general users, enhanced security under malicious attacks, and highly flexible operations.
We believe the artificial intelligence technology, which has received an unprecedented growth in the past decade, provides out-of-box solutions to address the challenges.
MATRIX is designed to be an intelligent chain to unleash the potential power of the blockchain technology.
Key features include:
•Automatic generation of smart contracts
•Secured smart contracts
•High speed transactions
•Flexible blockchain management
•Value adding mining
Son Heroic: Thank you for your detailed explanation.
Q3) How Recognition of Veins works for your biometric crypto wallet? What to recognize in vein? Do we have any kind of sensors for that? And is it better than fingerprint, Irish and facial recognition? @Hong_Nogox
Chadwin: Bio-wallets are devices that use biometric information as identifiers. The Matrix BioWallet is a hardware wallet that revolves around finger vein recognition.
It supports the unlocking of your wallet as well as the signing of transactions using one's finger vein, thus saving people from the stress of having to remember a password/PIN, and more.
In theory, you would never lose access to the Bio-Wallet by forgetting your password.
One may still wonder, how is finger vein recognition different from fingerprint recognition?
Simply put, the difference lies in the level of security.
Finger vein recognition works by sending a beam of infrared through your finger to get the image of your vein. It utilizes the latest and greatest biometric recognition technologies, and you can count on it to perform this with speed and precision.
As part of a living organism existing underneath your skin and tissues, your vein is impossible to replicate using non-living objects.
Fingerprints on the other hand are easy to replicate and you cannot avoid leaving your fingerprint on various scanner surfaces, which could expose your assets to unwanted risk.
Besides, finger vein recognition is less affected by your finger's condition in comparison to fingerprint recognition. The latter could be affected by water or dirt on the finger, or even skin damage.
Although the Matrix Bio-Wallet is only a prototype it is already ahead of the industry with a false rejection rate under 0.01%, a false acceptance rate under 1/600,000,000. The algorithm response time is also less than one second.
As with any prototype it still needs improvement and vigorous testing before going to market.
We will let the community know as soon as we can when it will be available to the public.
Son Heroic: Again Well Detailed Answer!
Q4) From your roadmap you have already completed 2 stages so far and working on 3rd phase. So far how was your experience? Can you deliver what you was expecting and how was community involvement? @VasiliMourati
Chadwin: Again as previously mentioned on top of our Matrix 1.0 foundation, we are launching Matrix 2.0, made up of the aforementioned platforms.
We have had regular community testing during the development of these platforms and have been pleased with both the participation and feedback of our community.
This is crucial to our success!
We even have dedicated community members who have created video demonstrations of these platforms. These are available on our YouTube channel.
We will have more testing events soon too.
Son Heroic: Best Of Luck For The Future.
Last Question.
Q5) The cryptocurrency market is increasingly competitive. What is your unique "selling point"? and how will you take advantage of it? @CryptoLegaccy69
Chadwin: Compared to its Chinese counterparts, MATRIX is a multinational project. So far, we have an international community of more than 150 thousand members.
1500 overseas nodes are participating in our mainnet PoW.
We are not satisfied with our current scale. One of such opportunities is the integration of AI and blockchain gaming. This could be our new focus.
Personally I believe that if we deliver on our roadmap and carry out the promise of blockchain using AI technology then we will become a force to be reckoned with.
Son Heroic: That's It For Our Twitter Segment 😊 Thanks For Answering!
Moving To Our Last Segment Live Q&A :')
Community Get Ready With Your Questions
𝗦𝗲𝗴𝗺𝗲𝗻𝘁 𝟰 : 𝗟𝗶𝘃𝗲 𝗤&𝗔
Moha Raja: Staking programme is very important for any project. Can I stake your token? Do you have any plan of starting a staking programme?
Chadwin: Hi Moha. Yes, MATRIX has a hybrid PoW system that allows people to stake MAN in various way. With some decent rewards too!
Here is a guide for you.
Sophia: NFT is not just a trend! It is going to rule this decade and innovation has just started. So, with NFT what is your future plan?
Chadwin: Couldn't agree more! We think we have a great real world use case for NFTs. It involves AI Algorithms and minting them into NFTs which will help secure the intellectual property of AI scientists but at the same time making it more accessible for the technology to be adapted in all aspects of life.
Check out our MANIA platform here!
Mansoor: I have a short question. Do you have a Whitepaper? If yes please share it with us.
Chadwin: Of course we do. We not only have a Whitepaper but also a Greenpaper!
Basically the Whitepaper covered more of Matrix 1.0 and the Greenpaper covers more of Matrix 2.0.
Both downloadable in various languages from our website.
www.matrix.io
Gjiaj: Where can I buy your tokens now? What are your current contracts, and how can I buy them and what are the benefits?
Chadwin: MAN coin is available on various exchanges and we hope to add to this list very soon with more tier 1 exchanges.
Exchanges:
https://trade.kucoin.com/MAN-BTC
https://trade.kucoin.com/MAN-USDT
https://www.gate.io/trade/MAN_USDT
https://www.gate.io/trade/MAN_ETH
Dieu Tran: How strong is your team? Many projects start with good impression and later abandon the project. What makes your project different than others? Please share with us!
Chadwin: We have one of the strongest teams in crypto!
Not forgetting the experience our CEO had prior to starting MATRIX we also have one of the world's top AI scientists closely involved in the development of our project.
We have also been around since 2017, surviving the bear market and fighting our way through COVID.
I think with all that experience and our sustained commitment to achieving the goals of our project the fear of it being abandoned is no longer a concern for most of our community members.
Son Heroic: With this we come to the end of this Session.
Thanks for these fantastic answers
Chadwin: My pleasure. Great questions from your community!
Son Heroic: Before we wrap do you have any last message for the community?
Chadwin: Always. Stay tuned and get ready for the next phase of MATRIX development.