Matrix FunFair 5 Challenge (September 2022)
Dear Matrixians
The Fun Fair event continues from where it left off. Our community enjoyed our August AMA full of exciting developments that community members were curious about and wanted answers from. This will be our main theme at Funfair 5 to celebrate the great progress of August.
We will launch Fun Fair 5 with the following details:
1. Period: From September 5 to September 25 (UTC+3).
2. Winners: 10 people
3. Prize: 25,000 MAN Coins to be awarded to 10 winners randomly selected. Each winner will receive 2500 MAN coins.
4. Actions needed:
a. Subscribe to Matrix's Youtube Channel (5 Point)
b. Leave a comment on the Matrix Youtube August AMA video. (5 Points)
c. Like Youtube AMA video (Answer a question about the AMA) (10 Points)
d. Visit Matrix Youtube August AMA video (5 Point) (A visit every 6 hours earns +5 points)
e. Visit the Matrix August AMA transcript on Medium and give it a round of applause.
f. Enter your Man Wallet address (2 Point)
(Required as rewards will be distributed to specified MAN wallets.)
How to create a Matrix Wallet?
https://matrixainetwork.medium.com/how-to-create-a-matrix-wallet-f227d6390e57
5. Link : https://sweepwidget.com/view/61788-zu5bik40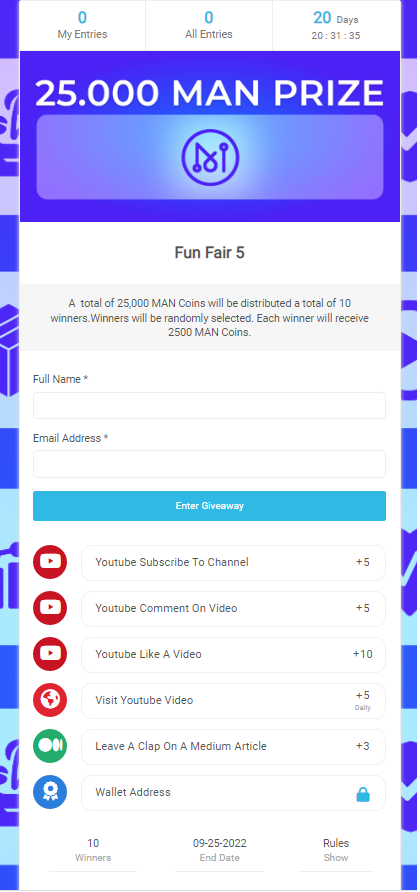 6. Misc:
a. Winners will be announced on September 27.
b. The distribution of the prize will be around October 5.
c. Winners who use bots or any scam tactics to earn points will be disqualified.
d. If the winners have the same points, the sooner a winner reaches the points, the sooner they will be selected.
e. Matrix reserves all rights in this campaign.
Enjoy the adventure with MATRIX.
Twitter : https://twitter.com/MatrixAINetwork/status/1566676879796576257?s=20
Medium : https://matrixainetwork.medium.com/matrix-funfair-5-challenge-september-2022-9c2b0a2f3eec