Season's Greeting from everyone at MATRIX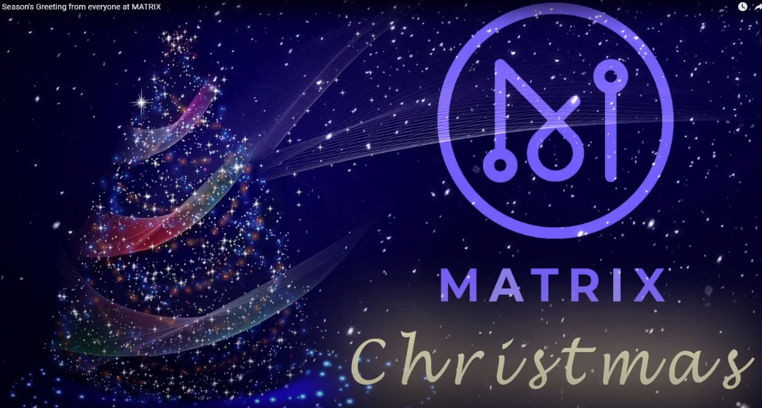 Owen TAO (Matrix AI Network CEO)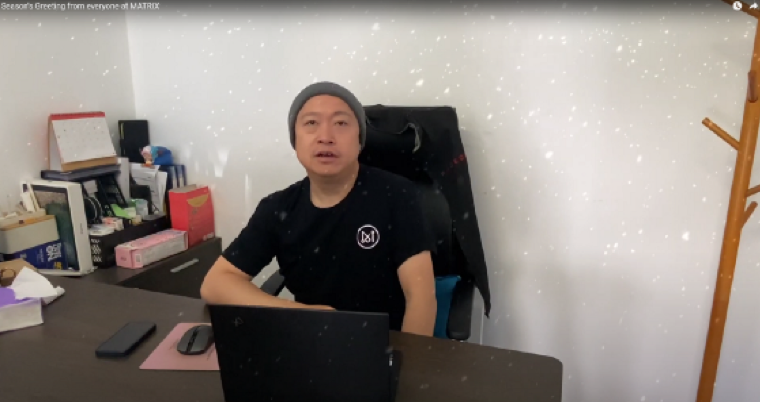 Hello,everyone life in the midst of COVİD-19 has sparked fear, frustration and anxiety all around. Given this critical situation, we have so much changed in a positive way this past year and we have fulfilled the roadmap as of now.
I'm overwhelmed by the support from all of your community and the dedication from the community members. Thank you very much! I would also like to send a thank you to each member of the Matrix project team and also our ecosystem partners.
On behalf of the management team, we want to thank you for your ongoing commitment to Matrix. I wish all of you a Mary Christmas and a happy new year and also that all of you enjoys the winter with Matrix in the next year !
Steve DENG Yangdong DENG (Matrix AI Network Chief AI Scientist)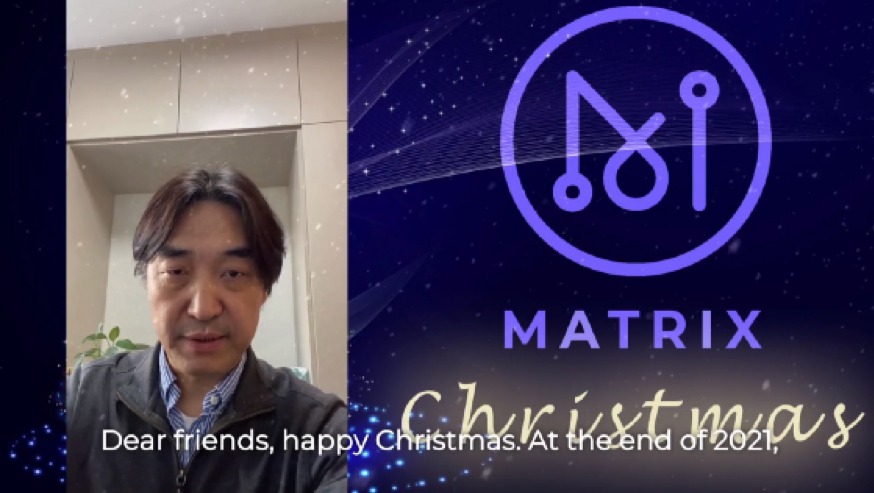 Dear friends, happy Christmas. At the end of 2021, I sincerely wish that everyone has a wonderful new year.Happy new year !
Ken MA (Matrix AI Network Marketing Director)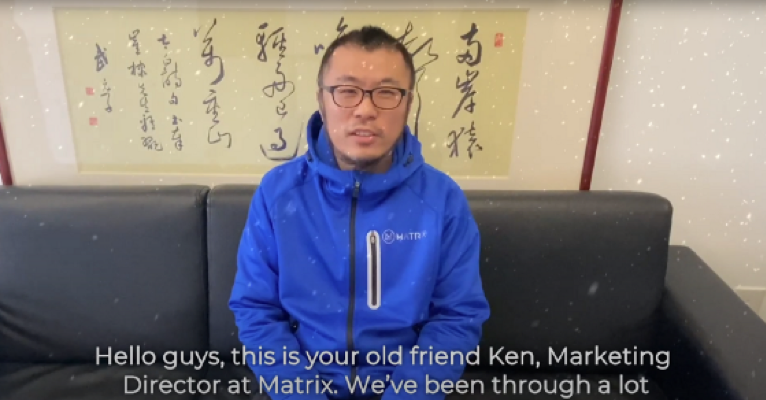 Hello guys, this is your old friend Ken, Marketing Director at Matrix. We've been through a lot together this past year.If you remember , last Christmas, Matrix was still struggling to recover from COVID-19 ans get back on its feet. A year has passed and Matrix is back! One by one, the goals in our roadmap all came true and all this would not have been possible without our supportive, patient and enthusiastic community. Thank you guys for being there. And in 2022, I will countiune to lead the marketing department forward with partnerships, for example apocalypse miners, ledger and other matters of concern to guys. The future is bright for MAN! Thank you.
Alfred (Content Manager)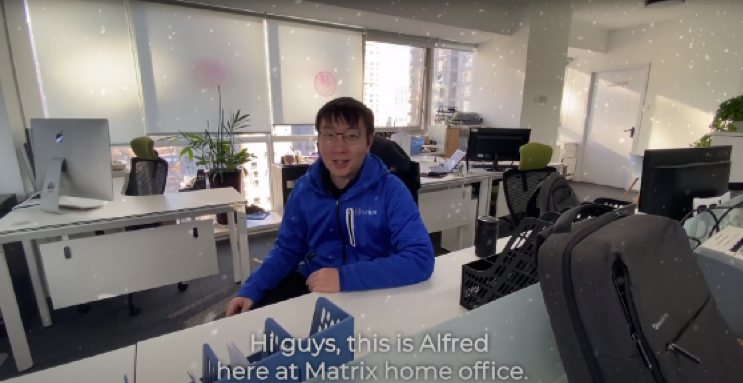 Hi guys, this is Alfred here at Matrix home office. How time flies, another year has passed and we've accomplished so much during the past year. It's been a very busy and fruitful year. Now, going into 2022, we expect more good things to come and we're in a pretty good place going forward.So, thank you for your encouragement and contiuned support. I wich you a merry Christmas and a happy new year.
Ethan Tian (Product Director)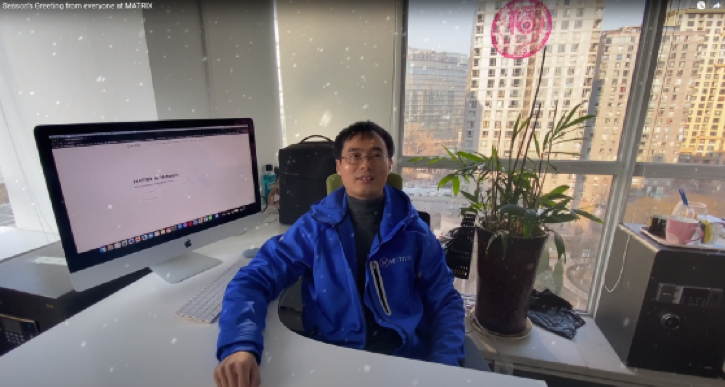 Hi Matrix community. merry Christmas ! I'm Ethan,Product Director at Matrix.Thank you for you support and trust.Let's work together to get Matrix to a better place.
KaiXuan (Head of Network Maintenance)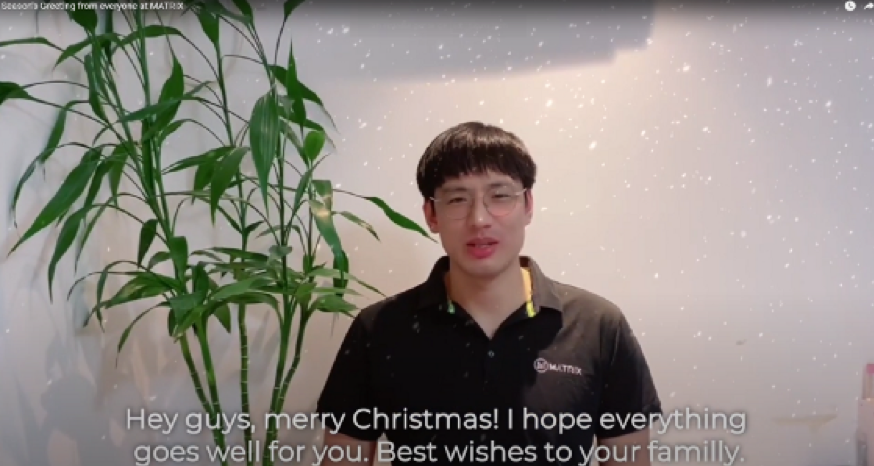 Hey guys,merry Christmas ! I hope everything goes well for you. Best wishes to your family.
Yuan (Matrix AI Network Main Core Developer)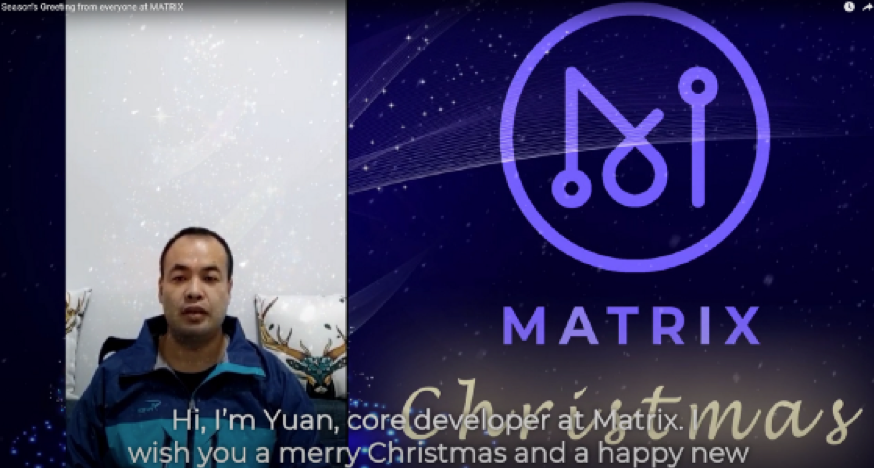 Hi! I'm Yuan,core developer at Matrix.wish you a merry Christmas and happy new year. Please stay tuned for more exciting scenes to come in 2022.
Eric CHOY (Matrix AI Network CMTO)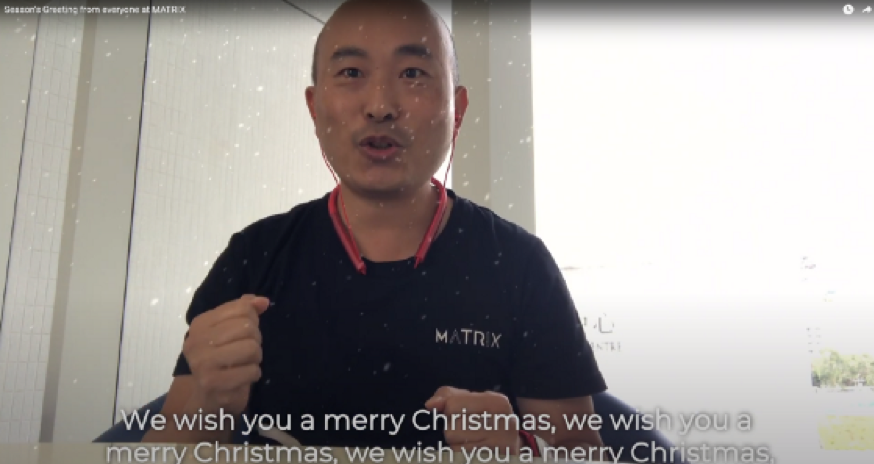 We wish you a merry Christmas, we wish you a merry Christmas, we wish you a merry Christmas, and a happy new year. So Christmas is here. I'm sure you have a lot of events planned with your family members, colleagues, classmates, beloved ones. So we do have a Christmas event for you an the Gleam platform, so please do check our website for details and don't miss out the prizes. For the past year, it has been busy, we had a lot of progress delivered, so it's been quite a year. This would not happen without the support of our Matrix project team members and also particularly thanks to our admins who are located in different countries. To name a few and I hope I didn't miss any of them ; Chadwin,Sercan,Chris, Amazir,Jerry,Elk, Selami,Mohit,Sweet and more.The community has given us a lot of feedback and constructive suggestions. We do value all of them. Next year will be an even busier year, and mostly, a more fruitful year for the project team and also for the whole coumminity. And I hope you can keep supporting the project by making us of all the resources we will have, to promote the project for us, to share all the beatiful things of Matrix. Withour further ado,I do wish you and your beloved ones a very merry Christmas and a happy new year. Thank you !
Matrix AI Network leverages the latest AI technology to deliver on the promise of blockchain.